Whether or not UI and UX design are a mystery to you, it is however safer to say that each workplace has a slightly different method of approach. Here is a look into the essence and functionalities of both disciplines.
UX design refers to user experience design, while UI design stands for user interface design. Both of these are crucial to an IT product and need to work closely together. Despite being very integral to each other, the roles themselves are quite different, involving distinct processes.
Read More>> Learn the Basics of JavaScript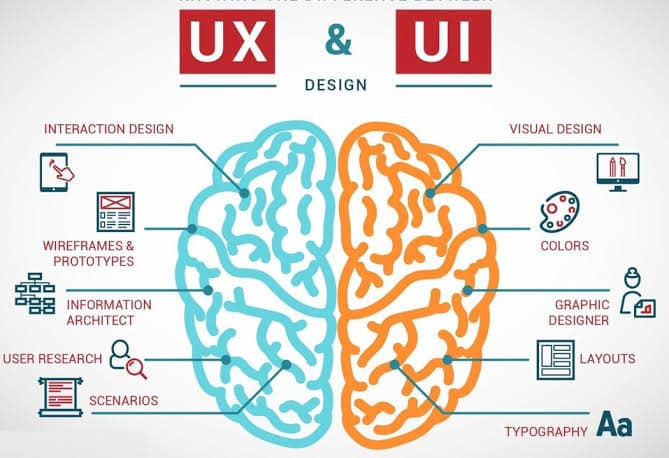 UX Design
User Experience Design (UXD or UED) is referred to as a design process whose main objective is to design a system that is meant to offer a great experience to its users. Thus UX design embraces the theories of a number of disciplines which includes; user interface design, Human-Computer Interaction, accessibility, accessibility, and information architecture. However, UX designers are generally focused on the development of digital products, but the theory and process can be applied to just about anything:
Strategy and Context:
Competitor Analysis
Customer Analysis
Product Structure/Strategy
Content Development
Wireframing and Prototyping:
Wireframing
Prototyping
Testing/Iteration
Development Planning
Execution and Analytics
Coordination with UI UX Designer(s)
Coordination with Developers
Tracking Goals and Integration
Analysis and Iteration
UI Design
User interface design or user interface engineering is the design of user interfaces for machines and software, such as computers, home appliances, mobile devices, and other electronic devices. This type of design is primarily concerned with maximizing usability and the user. UI is User Interface: UI Designer's job includes the following:
Look and Feel:
Customer Analysis
Design Research
Branding and Graphic Development
User Guides/Storyline
Responsiveness and Interactivity:
UI Prototyping
Interactivity and Animation
Adaptation to All Device Screen Sizes
Implementation with Developer
A user interface designer makes technology easy and intuitive for people to use. User interface designers work on the areas where users directly interact with the product. one of the major differences between UX and UI design is that UX design is all about the overall feel of the experience, while UI design is all about how the product's interfaces look and function.
Here are some of the things you should know about UI and UX designs:
A UI without UX is like a painter slapping paint onto a canvas without thought; while a UX without UI is like the frame of a sculpture with no paper mache on it.
UI is the saddle, the stirrups, and the reins. UX is the feeling you get being able to ride the horse
A great product experience starts with UX followed by UI. However, both are essential for the product's success.
Subscribe to our blog for more tech tips and updates directly to your mobile devices.